Spaghetti Squash has been trending on internet searches and social media platforms for the last few years because it is healthy, gluten-free, and easy on the belly. It is also high in vitamins and contains a good amount of fiber. So, obviously, it is worth trying...right? 
Some people love it from the start while others need to try it a few times to like it. It's great for cutting calories!
This veggie is also the simple answer to gluten-sensitive people that crave pasta. I ❤️ all things pasta but it leaves a fullness in my stomach for days that is uncomfortable. Spaghetti Squash has been a game-changer for me. I would encourage you to try it!
Squash vs. Pasta Comparison
| | | |
| --- | --- | --- |
| | Squash | Pasta |
| Carbohydrates Per Cup | 10 Grams | 43 Grams |
| Calories Per Cup | 40 Cal | 215 Cal |
| Fiber Per Cup | 1.5 -2 Grams | 2.5 Grams |
| | | |
*These numbers may vary slightly by pasta brand.
One cup of spaghetti squash has 10 grams of carbs and about 40 calories vs pasta spaghetti having roughly 43 grams and 215 calories. That's 4 times the carbs and 5 times the calories! Carbs are a good source to fuel the body, but consuming too many can put your body into "sleep mode" Spaghetti Squash is a fantastic alternative to pasta and rice while giving you the fuel you need without weighing you down!
Oven Instructions:
Cut the squash in half, lengthwise. It can be difficult to cut....a big sharp kitchen knife is needed and for the love of tomatoes, please be careful! Cutting this veggie is somewhat awkward, the skin is tough to puncture even more so than a watermelon. I promise it's worth the struggle as long as you don't cut yourself with that big kitchen knife!
Using a spoon, scoop out the seeds. Don't worry if you can't get them all out because after cooking they can be easily removed. Reserve the seeds for a snack later (more later on that below).
Next place the squash in a baking pan with the outside facing up and the seed side face down.
Add water to cover the bottom of the pan and place in a preheated oven at 350 degrees for about 30 to 40 minutes.
Check on them towards the end because burnt squash is a mushy squash and depending on the size may take more or less time.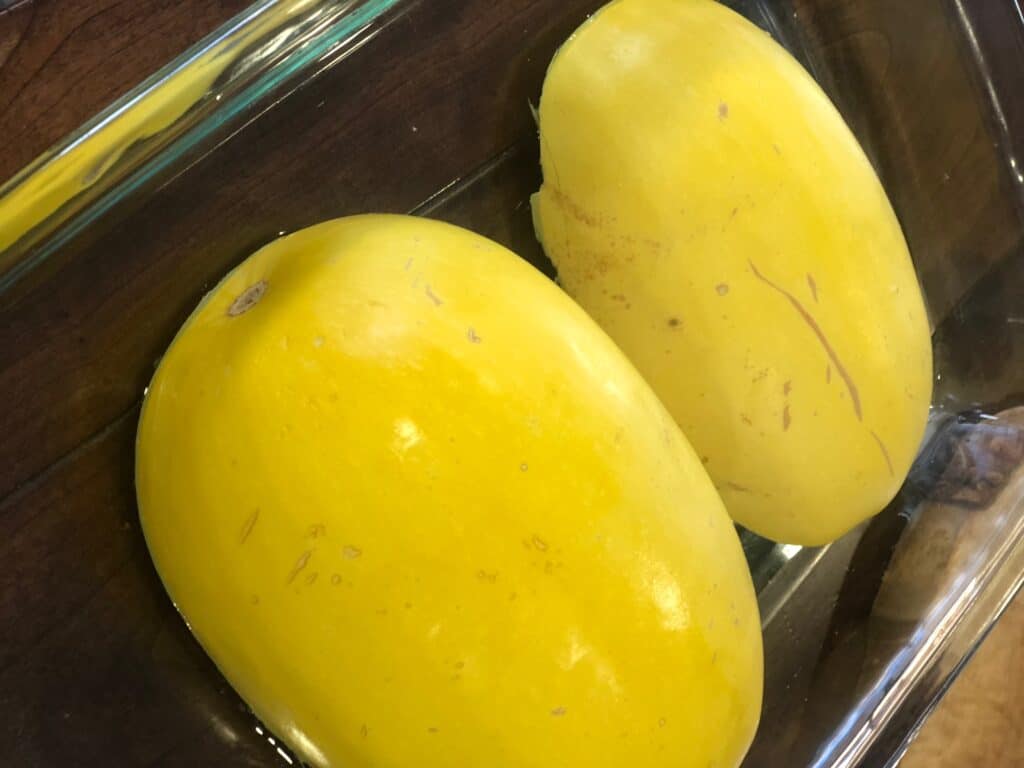 Short On Time?
Microwave Instructions:
Spaghetti Squash can be cooked in the microwave using a microwave-safe dish. No need to cut in half or deseed the vegetable until after the cooking process. Poking several holes in it, using a fork is necessary or it will explode making a complete mess. Pierce with a fork 7 or 8 times, make sure to pierce deep enough to get through the barrier outer wall, this will allow the squash to steam while cooking in the microwave. Cook for 10-15 minutes depending on the size. Start with 10 minutes, check the tenderness using a knife and an oven mitt.
When in doubt, take it out, cut it open, and if more cooking time is needed pop it back in for a few minutes more. Cut open lengthwise, scoop out the seeds, and reserve in a bowl. (More on the seeds soon)
Simple Ideas To Serve Spaghetti Squash
- Toss with olive oil, parmesan cheese, salt and pepper
- Pesto sauce
Don't Throw the Seeds Away!
Clean them off, pat them dry, add salt and pepper. Bake them in the oven for 30 minutes at 350 degrees for a nice snack!