Easy String Bean and Tomato Salad - A Novelty!
This Easy String Bean and Tomato Salad recipe was my grandma's and is a novelty! She had a way of making the best salads using the freshest ingredients possible. This lettuce-free salad is wonderful alongside sandwiches or fish and super easy to make. The dressing brings the string beans and tomatoes together using fresh chives and basil that really makes this salad "pop"!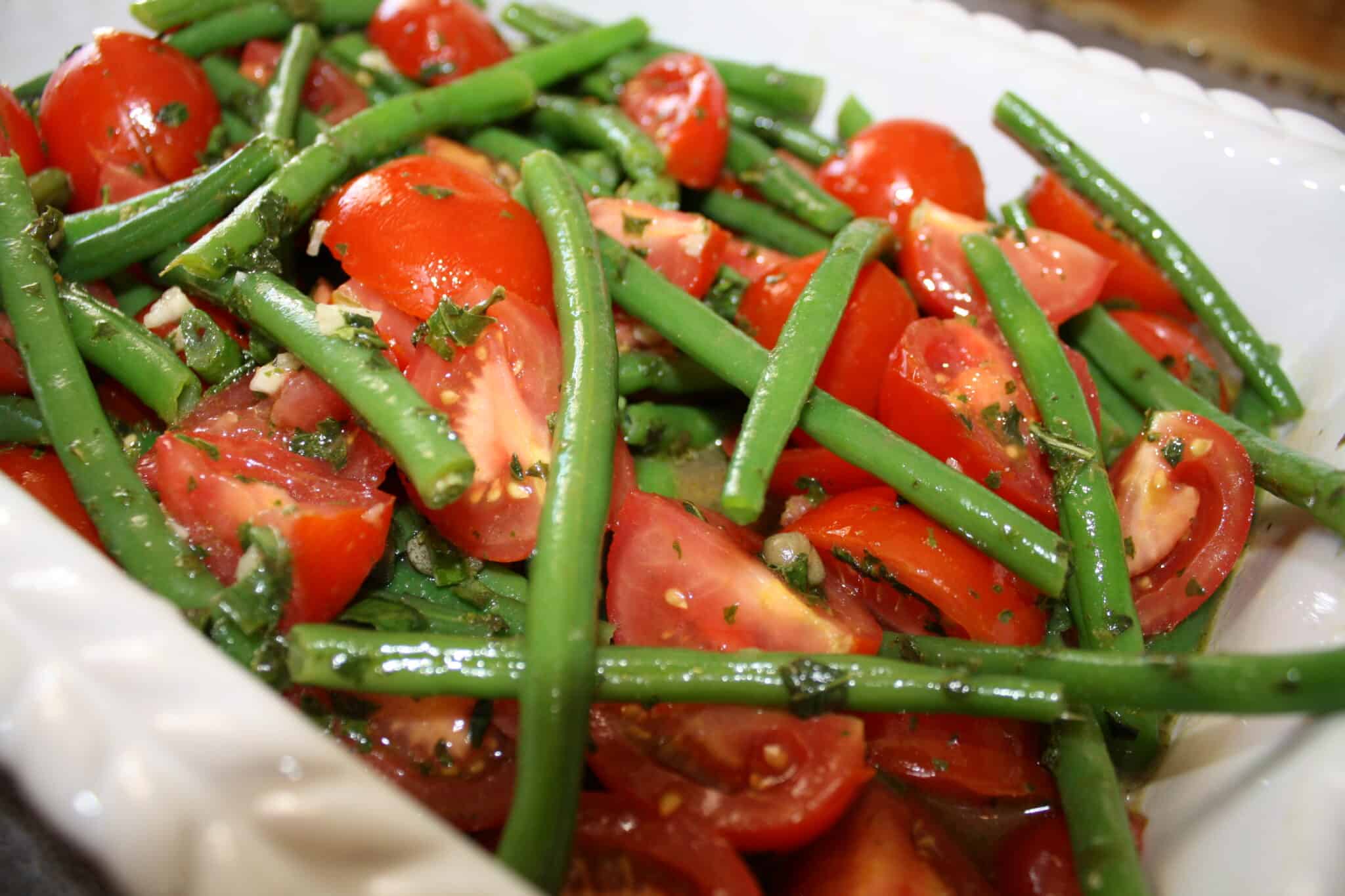 I have made some slight changes, adding capers and Campari-style tomatoes over plum tomatoes. I am sure Grandma would approve! Campari tomatoes are smaller in size but seem to be juicy-ripe 10 months of the year in grocery stores. You can certainly customize it using the type of tomatoes that you prefer, to make it your own too.
During the springtime, my grandparents always planted an enormous garden full of butter lettuce, green leaf lettuce, herbs, tomatoes, string beans, cucumbers, and different flowers. The fruits of their bounty were served in meals during the summer, including salads like this one. I miss those days as much as I miss them! ❤️
This salad would be lovely served with chicken cutlets, grilled steak, or Baked Cod fish. Also, Hasselback Potatoes, Smashed Baby Potatoes, Spring Pasta, or Swiss Steak.
Recipe 📖
Easy String Bean and Tomato Salad
Ingredients
6

ripe plum tomatoes

or 1 carton Campari tomato

1

lb

string beans
Dressing
1

tablespoon

dijon mustard

2

Tbsp

red wine vinegar

4

Tbsp

chives or green onions

½

Tbsp

garlic, minced very fine

4

Tbsp

olive oil

4

Tbsp

basil, chopped

2

Tbsp

capers
salt & pepper to taste
Instructions
Wash and trim the string beans.

Lightly boil the string beans for 3 to 4 minutes. Do not overcook, the ideal texture is crisp and not mushy for this salad.

Drain the green beans and allow them to cool.

Cut Campari tomatoes into quarters or core plum tomatoes and cut into wedges.
Dressing:
Add mustard, vinegar, chives, garlic, olive oil, basil, and capers to a capped jar and shake well.

Put tomatoes and string beans in a salad bowl and toss with the dressing.

Season with salt and pepper.
Nutrition